Official Gadgeteer Article: Daily Use Comparison of Palm OS and Pocket PC
by Tom Munch

Part 2
Read Daily News & Jokes
JORNADA
AvantGo makes quick work of downloading my daily stuff. My complaint is that I have to scroll horizontally & vertically even after checking the "Fit to Screen" option. This makes AvantGo a chore to use for pages not formatted for mobile devices. I tried the smallest font size, but it is unreadable.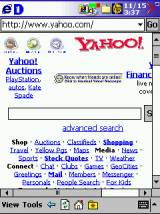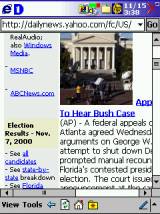 Smallest font
PALM
AvantGo works better on the Palm. Nothing runs off the screen unless the "Show Tables" option is checked. I can even change the fonts from fixed to variable. I wish AvantGo supported copying text so that I could save a quote or joke to a memo for reference.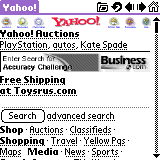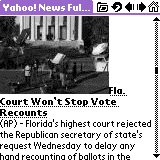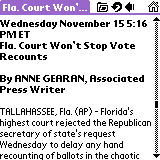 Call Appointment to Confirm
JORNADA
The address book is pretty straightforward. The names can be accessed by tabs or by a quick search box. The box works well with Jot (Character Recognizer) or the keyboard. With the Transcriber it is less successful. The individual address pops up quickly. You can also access all phone numbers from the list view. I like the Outlook type of address entry, but the lack of customizable fields is very annoying. Also I sometimes want an address listed by the company & not the person. The Pocket PC will always list by name if it is present. The only place to put the person's name then is in the Title field or some other field. I like to reserve the notes entry for a time/date stamp & detail of each phone call or meeting. The extra fields that match Outlook are nice. I spent a lot of time getting to know Outlook on the PC. It's pretty useful but it is not very intuitive.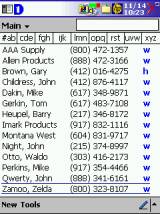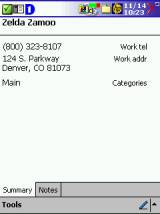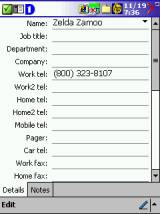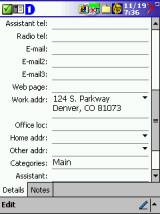 PALM
The existing address book works pretty well, but I usually use PopUp Names. I used to use SuperNames. It had additional fields like Outlook, but I found it was sometimes buggy. PopUp Names pops up over whatever app you're in. You have to have HackMaster installed to use PopUp Names. The cool thing is that you can assign it to the address button, select a name in an appointment or a todo & then tap the address button. PopUp Names will go right to the selected name. A preference lets you return to the last viewed contact. In addition you can have custom text inserted into the current app such as - "Call 'name' at 'home #'. Of course you can also have an A-Z letter bar & quick entry to jump to any name directly. Recent names also can be had by tapping the title bar. I have each category color-coded as well. Either the built-in address book or PopUp Names let me tap on the note icon to quickly access the note & record a phone call & appointment.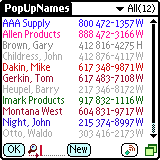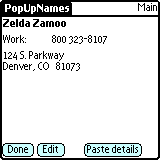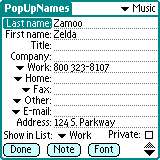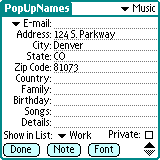 Set Quick Reminder to Call Client
JORNADA
There's no good way to do this. You have to make either an alarm or an appointment with an alarm.
PALM
I quick find my client's name in PopUp Names. I make a screen stroke with my stylus from the calculator button to the find button to activate PopMe (a HackMaster extension from PopUpNames) & capture the screen with her name & number & activate BugMe!. I write "call" on the screen in BugMe! & set an alarm for 15 minutes. Done.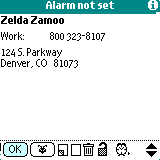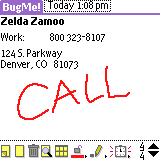 Print & Record Invoice
JORNADA
I keep a running list of invoice numbers & amounts & accounts. I was just keeping them on my PC, but I need to refer to them when I'm out occasionally. I couldn't find a good database program other than ListPro. Excel was easy to transfer to & enter four fields of data into, so I use that. I love the way the spreadsheet transfers to the desktop seamlessly. I have the field widths set to fit all four columns on the screen. I only have a problem when I need to enter more data than fits on the entry line in Excel. Then I can't see all the entry & have to use the arrows & scroll the cursor s-l-o-w-l-y.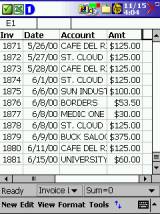 PALM
I have settled on ThinkDB for database duties on my IIIc. You can have plenty of fields, & the tabbed form entry fields are very easy to use. A desktop program allows me to view & manipulate data on my PC, & import & export functions to Access & Excel make reports very simple to complete. I use Pop! to give me context-sensitive popup lists to enter data quickly. I sometimes use the system shortcuts to supplement. Quick data entry (other than the word complete function in Jot on the Jornada) is almost non existent. I tried Access Panel, but it takes so many taps to get to data that it's quicker to just write it in. This is a serious shortcoming in the Pocket PC for me. I'm trying to use GigaBar to open a note quickly where I can copy & paste text from.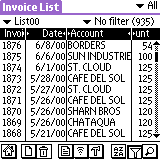 Record Software Registration
JORNADA
I tried to use ListPro for this, & I need to spend more time on this. For now I just have my registration numbers recorded in a Pocket Word document. It's not perfect, but it works.
PALM
I hate to admit I use something as powerful as BrainForest for simple registration data, but I like the way I can manipulate the hierarchy with quick Graffiti strokes (space for move right, backspace to move left, etc.) I use BrainForest for other things such as album project planning, request lists, & archived todos.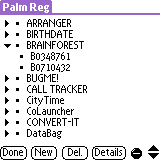 Check List to Pack for Gig
JORNADA
ListPro works great for this. I have equipment lists for each type of gig I do. I also use it for packing lists for trips. ListPro is quick & easy & offers a hierarchy that lets me expand & contract types of equipment.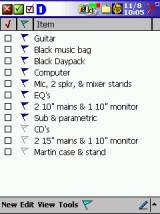 PALM
I use ListMaker on the Palm. It's quick & easy & also lets me save frequently used items to quick enter in a new list. I like having several apps with each one having only one purpose. This way I have quick access to any data I need without having to navigate a lot.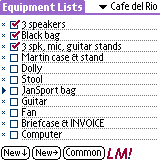 Record Purchase
JORNADA
Money seems like a great app. The setup is fairly quick on my PC, & the data is easy to import from Quicken. The interface on the PC takes a little time to figure out & is a little slow on reports, but it is very usable. The Pocket PC imports quickly in the sync & I have no trouble at first. The autofill works sporadically, & the entry form is 2 pages long. I don't like this, even though the syncing is great. I stopped using Money for a couple weeks; when I finally synced again it created duplicate entries of half of my data. Frustrating! This is the kind of junk that gives Microsoft products a bad name.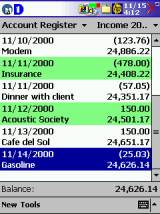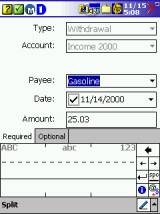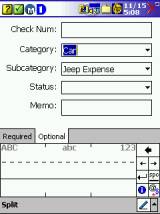 PALM
I have now tried many different financial apps on the Palm, but I always come back to QMate. Steve Dakin has spent hours making the UI spectacular in QMate. Quick entry works great. I can use a quick "return" stroke to scroll to the next memorized transaction. Combining this with Pop! makes for super fast entry. Everything is on one page as opposed to Money on the Pocket PC.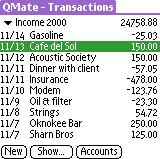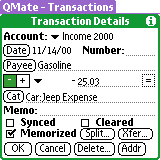 Let me know your comments on this article and read what others have to say.