Official Gadgeteer Hands On Review: RhinoPak 3000 Utility Case
by Julie Strietelmeier
Last date revised: 05/11/99
The RhinoPak 3000 Utility case is a black zippered cordura case made by Rhinoskin. This case can accommodate palmtops up to 8.5" x 5.5" x 2" in size.
The front of the case has a large zippered mesh pocket. If this pocket was just a bit larger, it could hold a regular sized checkbook in it. Above the pocket is a band with 5 loops in it. You could attach carbiners to these loops and then hang other things off them if you wished.
On the spine of the case is a handle with plastic D rings on each end. An included shoulder strap can be attached if desired.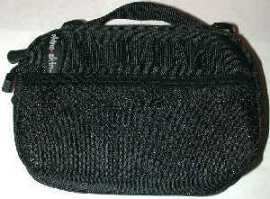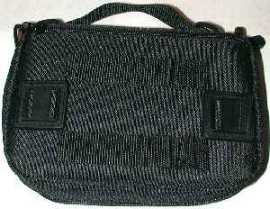 The back of the case has a large zippered pocket that is the same size as the entire back of the case. There are also 2 bands with 2 loops each sewed to the back. In the middle of the back are two plastic strap holders. I guess you could slide the included shoulder strap through these holders if you wished. Both the front and back of the case are padded with what feels like foam inserts. The case is held closed with a dual pull zipper.
The interior of the case has all kinds of storage options. One side has a mesh pocket that takes up half of one side. Above this pocket are two short and narrow slots for batteries and a wider slot for business cards or other items.

The inside spine of the case has two elastic battery holders.

The other side of the case has a multitude of elastic bands for holding all kinds of equipment. In the picture to the left, I inserted paper behind the straps so that you could see how they are arranged.
I like Rhinoskin's larger cases because they have so many pockets, and loops for holding things (they are a Gadgeteer's dream case). The RhinoPak 3000 is their best case yet because of all the types of things you can carry in it. Below are just a couple examples.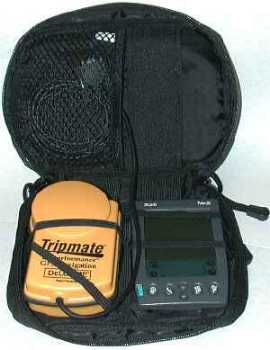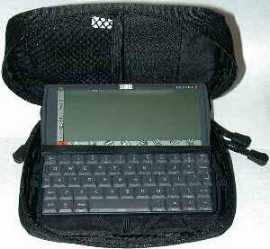 The RhinoPak 3000 is made very well. I could not find any flaws in the stitching or material. If you have a variety of gear and don't mind the somewhat high price tag, this might be the case for you.
Price: $49.99
Pros:
Made very well.
Front and back is padded.
Can hold all types of PDAs, and Palmtops.
Cons:
A little pricey.
Only comes in black.
Let me know your comments on the RhinoPak 3000 Utility case and read what others have to say.