Gadgeteer Hands On Review : Game Park GP32 Handheld Game Device
by Julie Strietelmeier
Date: 05/19/2003

Let us know your comments on this review and read what others have to say.
Product Requirements:
Device:
Windows 98 and higher, USB port
I'm a sucker for a handheld gaming device. I've had several original Gameboys, the Atari Lynx and recently the latest Gameboy Advance SP. I get a kick out of amassing a large collection of game cartridges and then flaunting them in front of my 9yr old niece when she comes to visit. She enjoys telling me exactly how to play them, and I enjoy having her beat the pants off me with every game she tries!
I had featured the Game Park GP32 device in the latest gizmo section on the front page of the site late last summer and thought it looked pretty interesting. When I found out that I could easily buy it from the UK and have it shipped to the US, I bought one so I could check it out. Not to break the Gadgeteer reviewing tradition, let's take a look at the hardware specs first...
Hardware Specs:
Dimension/Weight: 6.0 x 3.5 x 2.25in (147 x 88 x 34mm), 7.5oz (163g)
Display: 3.5", 320 X 240 pixel, Reflective TFT LCD, 65,536 colors
CPU: 32-bit RISC CPU(ARM9)
RAM: 8MB SDRAM, ROM 512K
Sound: 44.1Khz 16 bit Stereo Sound / 4 Channel Wav Mixing, 16Poly S/W MIDI Support / Earphone Port / 2 Speakers
External Storage: Smart Media Card (SMC)
Wireless Multiplayer Gaming 4-Channel RF Module
PC Connection: USB Port Connection
Power: 2AA batteries (12 hours use time between charges) / DC 3V Adapter
Wireless Multiplayer Gaming 4-Channel 2.4GHz ISM Band RF Module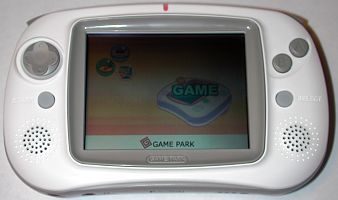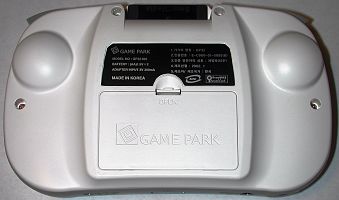 Although I had never played with the original Gameboy Advance, I immediately recognized the similarities between it and the GP32. They both have the same horizontal shape and size, a large color display and 'shoulder buttons on the top edges.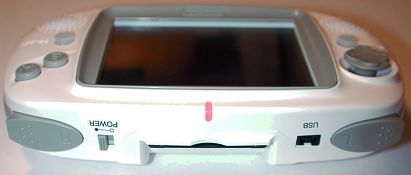 Constructed of white plastic with a grey edge, the GP32 has a substantial feel to it. The shape, size and weight make it comfortable to hold and play with for long periods of time. The casing is strong and does not flex or creak when in use.
The front of the device has the joystick and other input buttons. The joystick is a hard plastic spring loaded, micro switch style controller which actually sticks up and out of the casing. It can be moved in 8 directions and will spring back to the centered position when you let go of it. It has excellent tactile feedback. It actually took me a little while to get used to this controller as it almost felt too sensitive. But once I did get used to it, I find that I now prefer it over the standard joypad style controllers. It barely requires much pressure to move the stick, and as a result it doesn't cause your thumb to become sore or fatigued. The only thing I worry about with the joystick is the fact that it sticks up and out of the device. It would be easy for something to jam in between the top of the pad and the edge of the plastic to snap the button off. I don't feel like the pad would stand up to typical ruff and tuff kid play either. Although it feels sturdy to me, I just don't know how robust it really is.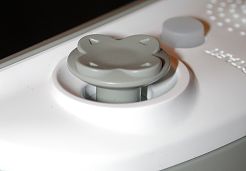 Just like a typical Nintendo Gameboy, the other input buttons on the front of the GP32 include the Start, Select, A and B buttons. The Start and Select buttons are semi-clear rubber buttons. While the A and B buttons are hard grey plastic buttons. All of them have good tactile feedback and are easy to press.
Below the buttons on either side are the stereo speakers. The GP32 has surprisingly good sound quality when listening to MP3s and game sounds. The maximum volume could be higher, but it is more than adequate for listening or playing games in a normal environment. A standard sized earphone jack is also provided for private listening. Sound volume through headphones or earbuds is more than loud enough.
The 3.5in color display was disappointing to me. I didn't even consider that it wouldn't have a backlight (like the Gameboy Advance) and was really bummed when I first turned the unit on and couldn't find a brightness adjustment. Like the Gameboy Color and original Advance, the display is reflective. It requires light to be shining down on it in order for you to see the picture on the screen. The bad news is that you can forget about playing in dim areas or in the dark. But the good news is that it looks very good outside on a sunny day, or in a brightly area. My problem is that I never play games outside. I'm usually testing them down in my basement computer room, where I just have one bare ceiling light bulb shining. In an environment such as this, I find myself tipping the unit back and forth in my hands trying to get the best lighting angle. Despite the backlight issue, the screen is sharp and crisp.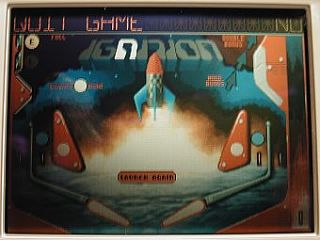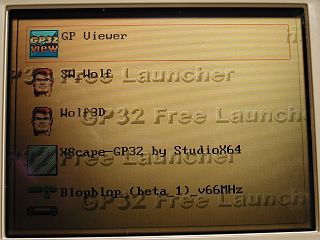 Actual physical screenshots
At the bottom of the GP32 is the volume dial, earphone jack, external accessory connector and AC adapter connector (adapter available separately). The device is powered by 2 AA batteries and can run for approximately 12hrs. On the top of the device are the two shoulder buttons, USB connector power switch and card slot.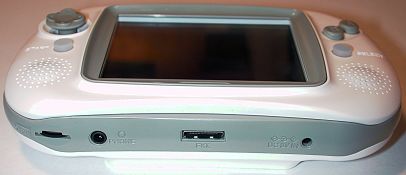 Guess what? The game card slot isn't a typical handheld cartridge slot. Instead, it is a SmartMedia card slot. This enables the GP32 to be much more portable than a Gameboy, because you can save more than one game on a SM card. I really wish Compact Flash or Secure Digital cards would have been used instead, but oh well... Unfortunately, a SM card isn't included with the unit when you get it. Fortunately for me, I already had a couple.
The GP32 is marketed as a wireless network game machine. It is either supposed to have some sort of RF module already built in, or it is an optional accessory. It is very hard to tell what this feature is all about due to lack of info and language barrier.
Before you can even start playing games on your GP32, you have to register it on the web through the Game Park website and download a launcher program. This is the most painful part of getting the device up and running because the manual that came with my unit was in Korean. I thought I was going to pull my hair out before I was able to download and install the launcher program. You have to create an account with a user name and password. The Game Park website did not like the fact that my password had a punctuation character in it. Once I finally figured that out, I was able to log in and download the launcher program.



PC-Link screenshots. Click to see full-size images
Once you have that program, you can install the PC-Link program on your desktop and connect the GP32 to your desktop via the included USB cable. The PC-Link program is a file manager style application that allows you to install games, format SM cards, copy MP3 files and a few other tasks. It's pretty easy to use, but I basically only used it a few times... Once I installed the launcher program on the GP32, I used my USB media card reader to copy any games to the SM card directly. This was a much easier and faster solution for me.
For those of you that have read this far, this is the place where I tell you, that unlike a Gameboy, the GP32 is not a game machine that you'll be able to go out and buy the latest and greatest games for. The commercial games being developed for this device are primarily Asian games. This might change if the GP32 catches on over here in the US. As is, the GP32 is an emulator game machine. If you like playing games from your past, like Atari 2600, Atari ST, Commodore 64, PC Engine, Gameboy, Super Nintendo and more, then the GP32 is going to make you very happy! Since the GP32 is an open source platform, the developing community is very active. New emulators and original games seem to be released every couple of days.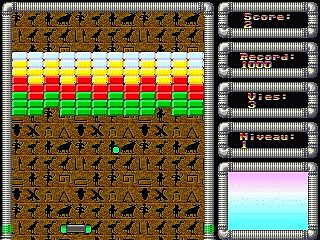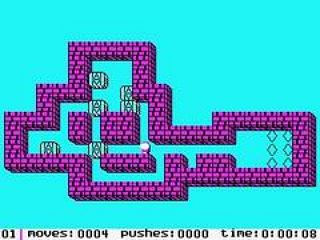 A couple freeware games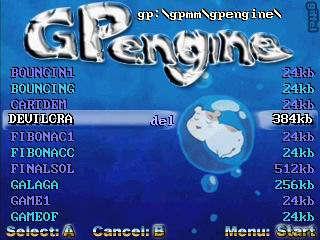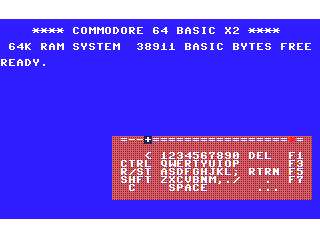 Two emulators
For my review, I tried a little of everything. I installed a Gameboy Color emulator (there isn't a Gameboy Advance emulator available yet...), a PC Engine emulator and several original / freeware games. I guess I should mention that the emulators require ROM files. Downloading ROM files are kind of in the same realm as downloading MP3s from Kazaa or other file sharing services. It's really not legal unless you already own the games that you download the ROMs for. With that out of the way, you can find ROM files pretty easily by using my old friend Google.
Of course, some emulators are better than others as far as how they handle sound, graphics and speed. The Gameboy emulator that I installed didn't have the best sound quality. But the PC Engine emulator was fantastic.
In use, I found the GP32 to be a heck of a lot of fun. I think this is because it was a blast to revisit some of the older games that I played years and years ago. I'm not so sure how much fun a 10-12yr old of today would have playing some of these same games though. I'm also not so sure that a kid would have the patience to go out and find the ROM files and install them. I really feel this game device is more suited for adults. So kids, stick with your Gameboy Advance SP and adults, if you don't mind a non-backlit handheld, go check out the GP32 if you're up for a little retro fun!

Price: £99 (~ $149 US Dollars)
Pros:
Ability to emulate many different systems
Open source format.
Retro fun
Cons:
Screen is not backlit
Not for a typical kid
SmartMedia card not included
AC Adapter not included
Let us know your comments on this review and read what others have to say.

Back to Main Page.