Official Gadgeteer Hands On Review: Finger Tip Styli Comparison Review
by Judie Clark
Last date revised: 11/19/2000
Product Requirements:
Device:
Any touch screen PDA
While many of you may be satisfied with using "pen-based" styli, there are evidently quite a number of people out there that are interested in "wearing" their stylus on their fingertip.
I am going to look at the offerings of three different companies today, and after telling you the pros and cons for each stylus, you can then decide for yourself if this type of writing implement is something you would be interested in trying.
Stinger Stylus
First up, we have the Stinger Stylus. This is a very inexpensive adjustable plastic device that wraps around the tip of your pointer finger, creating a stylus.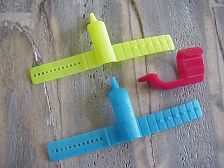 The Stinger is easy to shape into the form that will best fit your finger. You basically have two flaps of plastic that you overlap & lock, similar to the plastic size adjuster on the back of a ball-cap. You simply trim off any excess so that at least two of the segments are interlocking. The Stinger actually fits quite fine, and you do feel that you have some control over the stylus, because the "spine" being on the underneath braces quite well against the "belt" wrapping around your finger.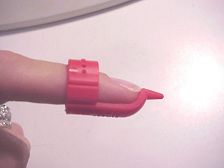 The Stinger in comfortable for text entry, however, if you are going to be writing for a long time, a conventional stylus would probably be preferable, as it felt like the Stinger was shifting on my finger after I had written several sentences.
To be fair, I'll tell you that none of the fingertip styli that I tried were comfortable for extended periods of text entry. In my opinion, fingertip types of styli seem to be better suited to tapping on the on-screen keyboard, or for simple "look-up" type operations.
One feature that I really liked about the Stinger was that you could "store' it on your pinky when not using it. It fit quite comfortably there, also.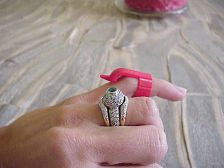 One word of caution: If you look extremely closely, you will find that there is a molded seam that runs across the tip of the Stinger. If you don't use a protective cover on your PDA's screen, you might need to file this ridge off, as there might be a possibility of it scratching your screen with repeated use. I am cautioning you about this because the Stinger that I am reviewing is the "finished" stylus, packaged to sell to the public.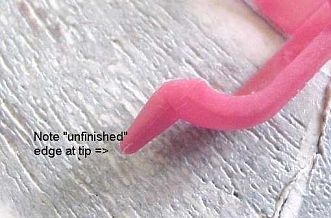 These come in packs of three. Should you choose to, you can even get them customized with your company's logo.
Price: $4.95 for a pack of 3
Pros:
Inexpensive
Fits well, can customize fit
Can "store" it on your pinky when you are not using it
Basically disposable
Cons:
Uncomfortable for extended periods of text entry using graffiti
TrueTip Stylus
Next, we have the TrueTip Stylus. This is another inexpensive adjustable nylon device that also goes on the tip of your pointer finger.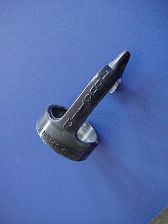 Unlike the Stinger, the TrueTip cannot be made smaller. They say on their website that you can squeeze it to make it smaller, which I did. But because it made out of a flexible material – it will quickly spring back out, to its original shape. It can however, stretch quite a bit for a larger finger. It was a too large on my finger – in fact it was unusable when I put it on the way the picture portrayed that you should (With the "spine" on the top of your finger). By putting the "spine" on the bottom of my finger, I had better results, but it was still too big. To be fair, I had my husband try it on his finger, and it did fit his just fine. Now before you start imagining that I am some tiny person that nothing would fit – let me just tell you that I am 5'10", and words like "amazon" are usually spoken in my presence. :0)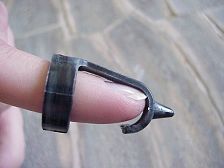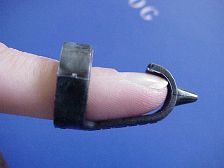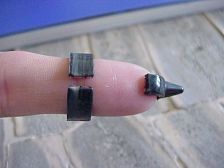 Perhaps a solution would be if they could make a "small" version, in addition to their "regular" version.
Like the Stinger, the TrueTip prototype that I was sent also had a molded seam going across the tip of the stylus. However, insert information assured me that the final product would not have seams and would have smoother edges. I'm going to trust them on this.
Of the three fingertip styli, this was my least favorite, strictly because of "fit".
***UPDATE*** TrueTip has released a finished product that took care of my "cons" in this review! Karl Robb, the inventor of the TrueTip stylus, has sent me the finished product. Not only are there no seams on the end of the styli, the nylon seems to hold its size better, and now fits my finger. To top it all off, the TrueTips are now available in colors. If you are looking for an inexpensive fingertip stylus, you may want to give this one a try.
Price: $8.95 for a pack of 3
Pros:
Inexpensive
Basically disposable
Cons:
Could not make smaller
Poor Fit on a woman's hand

Finger Tip Stylus
Last, we have the "Cadillac" of this genre, the Finger Tip Stylus by Concept Kitchen. This is a solid sterling silver fingertip stylus that almost looks like a piece of futuristic jewelry when you have it on.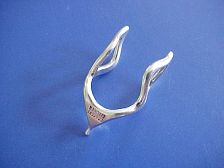 Of the three, it is the only one that does not look like a cheap piece of plastic attached to the end of your pointer finger.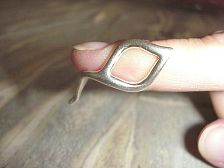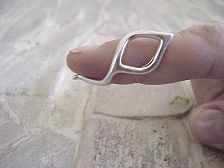 It is easy to shape, as it is made from sterling silver. It cradles both sides of your finger, with the "bar" going under your fingertip.
The Finger Tip Stylus has a smooth, rounded writing tip that glides over the screen of your PDA, whether you have a screen protector on or not. Even though it is metal, it is not abrasive.
Like the Stinger, you can "store it on your pinky when it is not being used.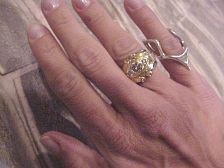 As with the other fingertip styli presented here, it was not practical for extended hand-written text entry.
Price: $19.99
Pros:
Looks professional and interesting
Fits well, can customize to fit
Can "store" it on your pinky when you are not using it
Cons:
Expensive
Uncomfortable for extended periods of text entry using graffiti
In summary: I tend to sit at my desk for extended periods of the day; PC in front of me, and my Palm in its cradle to the right. When I have something that I need to add to my Palm while I am working at my keyboard, I will generally pick up a stylus and commence writing. If this scenario sounds familiar to you, then you will probably not appreciate any of the fingertip styli, as they get in the way when you are typing, and it seems impractical to constantly be putting on and then taking off a fingertip stylus.
However, if most of your tapping is done away from your desk, then any of these styli should do just fine (assuming you have a large pointer finger, in the case of the TrueTip).
There is something available for every budget, and taste.
Let me know your comments on the Finger Tip Styli Comparison Review and read what others have to say.